In Glendale, commercial AV integrator, Vizual Symphony, integrates your audio-visual technology to solve your tech problems. And that is no easy task. It takes commercial audiovisual consulting experts with experience. Over twenty years of happy audio-visual integration clients are something to be proud of and that legacy demonstrates our experience.
At Vizual Symphony, our audio visual integrator team customizes, designs, installs, tests, manages, updates, and maintains audiovisual solutions. With every client, it all starts with a free consultation. So, we want to talk to you.  Find out how our audio visual consulting solutions can solve tech issues plaguing your house of worship, holding your business back, or stunting your school.
Promote Student Engagement with BYOD AV Collaboration Audio Visual System Integration Solutions For Education
Education is engaging in classrooms that can accommodate any number of users, any amount of content, from any device. Instructors, teachers, and lecturers can moderate student posts in these classrooms. And can also arrange, highlight, markup, and control session content. 
Our audio visual technology designs can allow multi-participant content sharing, control, and markup to enhance engagement so Glendale students can share their best ideas. In addition, our solutions can support all user devices. So, users can use many options like AirPlay, Miracast, Chromebook, and browser-based sharing options.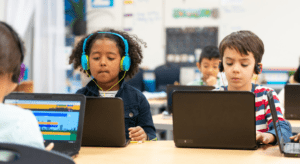 This Glendale audiovisual integrator offers integration design options for robust cloud, AV hardware, and software integrations for your existing technology. And can enable optional authentication options for educators and instructors, such as moderator mode or screen key, for additional in-room security.
Remote audiovisual management services and analytic data reports can help you understand classroom usage and occupancy patterns—insights like these help optimize spaces and improve your ROI. Our innovative audiovisual financing and AV management programs future-proof your educational audio visual architecture. Our AV as a service program delivers new audio visual tech capabilities and improvements via automatic software updates and system maintenance services.
Support Active Learning and Flipped Classroom Trends With AV Improvements
The essential aspect of promoting engagement in the classroom is improving collaboration. Powerful AV collaboration systems must be in place and work seamlessly in the teaching-learning environment.
Our audio and visual consulting services transform classes into active learning experiences. In addition, our audio video solutions provide educators with the tools to stimulate group collaboration, enrich lesson content, and nurture student-teacher engagement. All of which are essential for successful in-person and hybrid education situations.
Allow us to put a system in place to let numerous instructors and students simultaneously stream content from devices to a room display, enabling the flipped classroom. Our AV consultants can also develop integration solutions to help students easily access pre-recorded videos and participate in online discussions at home. In addition, our classroom audio-video systems help students debate, present, and collaborate in person and remotely.
Active learning technology innovations enable us to integrate AV that is easy to use campus-wide. Our custom audio-visual design consultants look for the most effective and efficient way to improve your AV. For example, that may involve software-based video routing for multi-screen circumstances that require no expensive hardware.
Glendale Commercial Audio Visual Integration For Conference Room AV Tech
Vizual Symphony is the audiovisual consultant that corporations to talk to enhance collaboration in their conference rooms. Meetings are at the epicenter of workplace communication. So, updating conference rooms will help you get the best work from your team. Our innovative AV solutions allow everyone to collaborate easily and freely share ideas.
Large conference rooms and boardrooms are where many important meetings happen. AV integrator, Vizual Symphony, can solve your conference room technology problems. Update and upgrade outdated conference room AV systems with wireless sharing from any device. And we provide support and training for our effective video and web conferencing services.
Small meeting spaces for small-group collaboration are in demand more than ever before. As a result, many businesses need new AV room solutions for these small meeting areas.
Enhance Your Current AV Technology For A Bigger ROI
Our AV integrators can design and install systems throughout your organization to support engagement and collaboration. For example, connect remote attendee and on-location worker meetings with video conferencing systems to power any small meeting place.
Consider adding more sharing options, support, and web conferencing services to Zoom meeting rooms. This type of AV integration will ensure you get the best ROI from your current AV technology and equipment. Schedule a free consultation to learn more about how our flexible, easy-to-manage AV system solutions can better your business.
How Can Audio Visual Consulting Solutions Improve Conference Room AV to Benefit Your Business?
Enhancing collaboration improves engagement and increases meeting productivity. In addition, multi-participant document sharing, meeting control, and whiteboard markup capabilities allow all team members to speak. Moreover, users tend to communicate more freely when they have the flexibility to share via multiple apps. Seamless support for all primary video conferencing services means you can have glitch-proof meetings. And also get more done. Also, a simple, standardized way to start meetings allows you to begin faster, minimize wait time, and limit IT frustration.
Make The Most Of Your Office Space AV With Audio-Visual Consulting Services, Glendale
Vizual Symphony is the audio visual integrator to help you enhance collaboration in informal and ad hoc meeting areas like huddle rooms in Glendale, CA. For example, improving workplace collaboration with AV integration allows you to create better informal meeting spaces. In addition, our AV technology design and installation services let your teams collaborate freely and easily share their best ideas.
Are your huddle rooms and meeting spaces for informal small group collaboration equipped with video conferencing systems? Our AV integrators can easily enhance connectivity to promote remote team collaboration in these rooms and areas. Also, you can gain valuable insight into how AV system improvements can help your organization with a consultation.
Our audio-visual integration and AV system improvements can help make the most out of your office space. Glendale audiovisual integrator, Vizual Symphony,  creates audio-visual system integrations for collaboration spaces anywhere, like hallways and kitchens. With wireless collaboration, video conferencing support, and digital displays for impromptu collaboration, you can share information throughout your organization. And maximize your ad hoc and transitional meeting spaces with custom audio-video integration.
Glendale Commercial AV Integrator Solutions For Every Budget
Suppose you could improve your collaboration and web conferencing capabilities without paying for it upfront? For most, it is the huge upfront costs that hold them back from making the technology improvements their organization needs.
At Vizual Symphony, we understand that. So, with us, you have options. We offer a variety of flexible payment alternatives to fit your budget needs. From convenient monthly payments that come out of your monthly operating budget to third-party financing. Whatever the circumstances, we know we can find a way to help you. We are the AV integrator Glendale trusts to get the job done.
Many of our clients are taking advantage of the new 5-year financing option with automatic system upgrades and five years of maintenance. It is helpful to have a choice that can bring your web conferencing vision to life without depleting your reserves.