Cloud video conferencing is amazingly affordable and easy to use today. It can be up and running in minutes. Make HD video calls from any device that connects to the Internet. For users, remote face-to-face communication is the new norm. And it is easier to deploy and manage a cloud solution than ever.
But what do you need to know about cloud-based video conferencing now? In this guide, you will learn about the technology, apps, software, and services available. Important features and factors to consider when choosing one. And how to figure out what solution is best for your needs.
What Are The Four Video Conferencing Categories?
Video conferencing fits into one of these four categories.
Old School On-Premises
Cloud-Based
Meet Me Video
What Is Old School On-Premises Video Conferencing?
These systems are obsolete today with the available technology. Initially, video conferencing was for large companies and organizations that could invest in the necessary endpoints, infrastructure, and personnel.
On-Premises solutions were available to select employees or workgroups. So, the endpoints were conference rooms or small project groups on the intranet behind a robust firewall. Some systems would use ISDN connectivity for added security. But, they were not readily available to everyone, especially not on their desktop.
Later video conferencing systems gradually migrated down to the PC and are available on the desktop, but they typically still use the corporate intranet behind the firewall. As the number of endpoints increases, so do the bandwidth requirements, network complexity, and associated video infrastructure, all of which need support and maintenance. So, while the cost per endpoint has reduced, supplying, supporting, and maintaining the in-house network and video infrastructure has increased.
As a result, it can be a significant portion of the total video conferencing costs. The following obstacles pose a dilemma for SMEs and small organizations who see the benefits of video conferencing.
Require few endpoints
Lack of technical support staff
Cost prohibits outsourcing support
Lack bandwidth resources
Lack of time, desire, or ability to manage in-house
What Are Cloud Video Conferencing Solutions?
Cloud solutions supply all the essential video infrastructure as a fully supported hosted service charged annually. You typically choose and deliver the endpoints. In addition, the cloud offers interconnectivity, including multi-point capability. Using a Cloud solution has financial benefits as it is a subscription service and not a capital expenditure.
Cloud-based video conferencing does not involve hefty hardware costs, so it is more affordable than its on-premises counterparts and is the easiest solution to deploy and use. In addition, business-class solutions are typically high-quality, secure, and employ a shared company directory, so users connect by name instead of dial string.
Most free cloud-based video conferencing services are either ad-supported or have limited features. However, free services offer the quality, support, and security you would expect from a free service. The biggest concerns with free services are the lack of security and service-level agreements.
What Is Web Conferencing?
Some web conferencing providers supply a video element to their web-based meeting room services. These solutions are usually best for a small group of presenters to share information with a larger audience. Think of it as an upgraded audio conference call. A speaker can share their presentation and face with others during a pre-scheduled meeting.
What Are Meet-Me Video Services?
The "meet-me" video service is also known as reservationless conferencing because scheduling is not required. However, connecting to a meet-me video meeting is like connecting to a web conference. Dial into a shared meeting in the cloud, wait for the moderator to join, and start the call.
Four Types of Video Conferences
Internal video calls within an organization or team meetings
External video calls with customers and vendors
Large organization-wide meetings.
12 Questions To Determine Your Conferencing Needs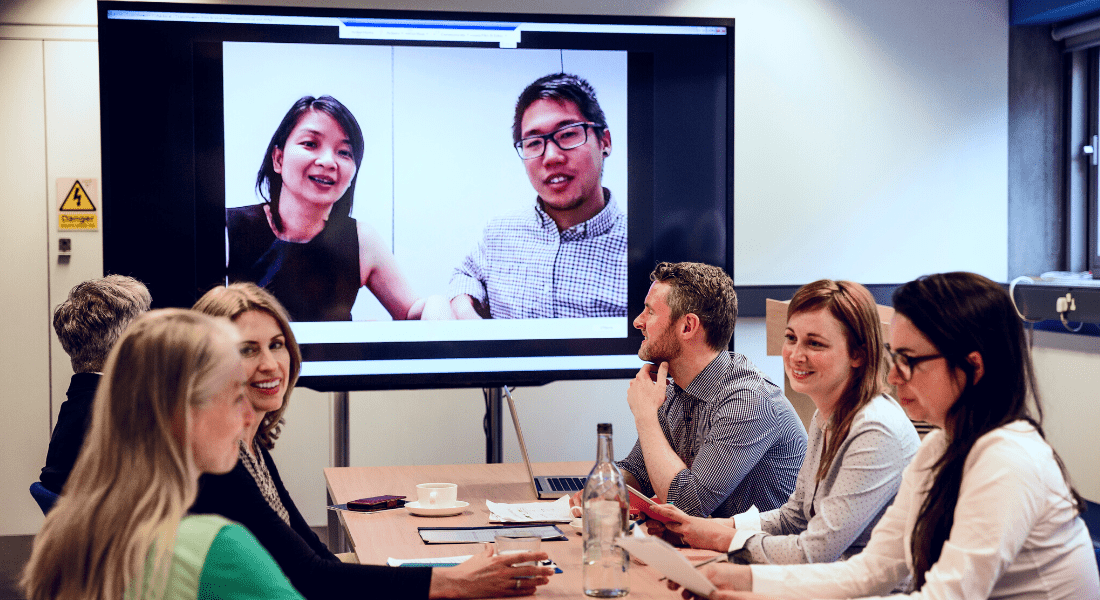 Here is what you need to select the best video collaboration solution for your needs. When selecting video and web conferencing systems, evaluate your current needs. To start, answer these questions about your current requirements:
How many locations need connecting?
Do these include onsite, remote, and work-from-home locations?
How many total participants will use the service?
How many spaces, huddle rooms, meeting areas, and rooms need to be video enabled?
Is the cloud-based solution BYOD?
Does the system support Mac®, PC, Chromebook, and mobile and tablet operating systems iOS, Android™, and Windows®?
What security and are encryption aspects essential?
How tech-savvy is our user base?
What are the must-have features for our video solution?
Will our cloud-based system include video, audio, and web conferencing capabilities?
Is recording video and audio and archiving recorded sessions important?
Will users use the service for 1:1 discussions, multi-way mass collaboration, or presentation meetings?
Cloud Conferencing Solution Benefits For Businesses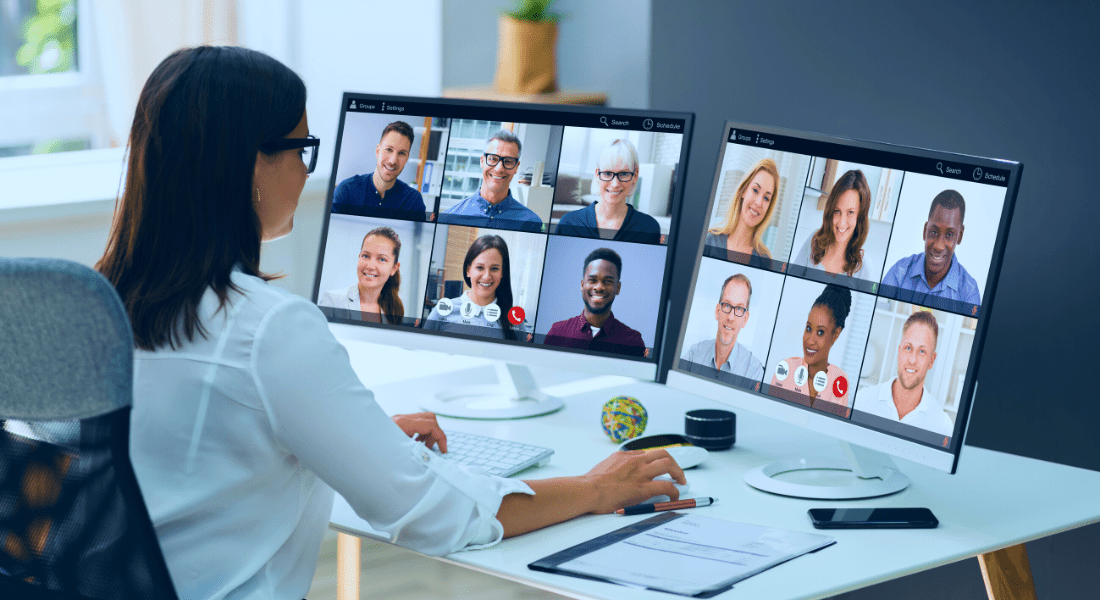 Video conferencing offers more than better meetings. Here are a few ways it can help people in the workplace.
Cloud conferencing helps HR departments recruit remotely, train new team members, and hold career development conversations.
Video conferencing allows consultants to communicate and manage global projects without high travel costs.
IT professionals can support remote employees and troubleshoot collaboratively with video conferencing.
Video conferencing helps marketing and sales professionals connect on projects to create more engaging campaigns that help customers make informed decisions.
Engineering departments can optimize time with global experts by collaborating over video. And quality control checks are perfect for video conferencing.
Everyone can benefit from the collaborative powers of video conferencing that help build relationships by enabling more personal connections.
20 Factors To Consider When Choosing Cloud Video Conferencing Services

The various video conferencing services have many special features to meet different requirements. As video services compete for market share, remember to match your priorities to the solution set that best fits your needs. For example, do you need web collaboration, content sharing, multi-way video conferencing, audio, web conferencing, enterprise-grade features, recording, or reporting? Here are some features to consider when making your selection:
Ease of Administration:

Check for a service with a user-friendly online dashboard that allows you to pull in-depth reports on user and room participation, and device usage.

Ease of Use:

Enhance the way you communicate face to face, whether between two people in a chat, an audio call, a video call, or a more formal group discussion.

Search-Based Directory:

A presence-enabled directory with a click to call by name lets you know who is available and ready to connect And connects you with a click.

Security:

Support for secure firewall traversal, encryption, and authentication procedures at the account and meeting level may be important to you. Also, you may want services that provide 128-bit AES (Advanced Encryption Standard) encryption.

Interoperability:

Find a solution that supports connectivity for all devices, including video systems, laptops, tablets, and smartphones. It is also essential for cloud-based video conferencing systems to connect to devices made by any manufacturer.

Quality:

The service provider supports network resiliency and packet error correction solutions.

Scalability:

A cloud conferencing system is scalable and can grow as you grow. Scalability makes it easy for everyone to benefit from video conferencing. It is no longer for a privileged few.

Affordability:

Typically, the costs for cloud-based solutions are lower because you do not have to invest in or support any infrastructure hardware. So instead, find a solution that lets you enable every employee and every meeting room.

All-in-One Solution:

An updated cloud video conferencing system is a solid replacement for outdated audio or web conferencing systems.

Device Support:

PC or Mac, tablet, and smartphone (Android or iOS), Google Chrome™, or Other – BYOD.

Live Chat:

Chat and group chat supply an added level of collaboration via text.

Screen Share:

Instantly collaborate by screen sharing or presenting.

Guest Invites:

Video conferencing available to every person and every meeting, which includes guests outside the organization, is most popular. Guests are more likely to attend without heavy download requirements and other barriers to connecting.

Scheduling Integrations:

Calendar integrations make it is easy to set recurring meetings or send guest invitations to people outside your organization.

Virtual Meeting Rooms:

Just because meet-me services have limitations, does not mean virtual meeting rooms are unnecessary. Instead, users should have the option to create reusable meeting room spaces for recurring meetings in addition to direct calling.

Recording and Sharing:

Record meetings, conversations, events, and ideas and share them after a live event.

Conference Room Cameras:

Integrated video camera systems for large and small meeting spaces let the onsite team meet face to face with remote teams over video from conference and meeting rooms.

Automatic Updates:

You will always have the latest and greatest features as the software updates automatically. Also, subscribe to receive real-time status updates so you are always aware of when parts are available.

Call Escalation:

A video conferencing solution may feature call escalation that avoids the hassle of having to hang up a two-way call to open a multi-way call.

Support:

A business-class solution must have support within reasonable response times. Select a solution that supports you throughout the life of the service.
Four Free Cloud Video Conferencing Apps to Consider Using
Skype is Microsoft's video conferencing app that has a generous free tier that runs in any web browser and the cross-platform app also supports group video calling for up to fifty people. Other free features include screen sharing, auto background blurring, live conversation subtitling, and the ability to record chats.
8×8 Meet, for free software, has an impressive array of features. 8×8 has custom browser extensions for Chrome and Firefox and plugins for Google Calendar and Office 365, any of which you can use to quickly schedule meetings and invite participants. Within meetings, you can easily share your screen, chat with other participants, or raise your hand to signal that you have a question or want a chance to speak up. You can also record any meeting or create a live stream, even without a paid subscription
Webex provides some advanced video conferencing features with its free version. For example, organize HD video meetings with up to one hundred participants, engage in screen sharing, and get 1GB of free storage.
FreeConference is excellent free video conferencing for five participants or fewer global meetings and no desktop software installation is necessary. It is a shame that features such as advanced security, video recording and transcriptions are only part of premium packages, but the free version is still powerful.
Four Cloud-Based Video Conferencing Software Apps
Today, the cloud-based video conferencing software, platform, and app choices include paid and free options. For the most part, the same video conferencing software and apps for business are also open to home users. These are the best video conferencing software apps available.
When deciding which of the cloud based video conferencing services is best for you consider how you will use it. Whether to connect occasionally with a few people or regularly to connect with massive groups, one of the following video conferencing software selections will work for personal and business video conferencing.
BigBlueButton is for virtual classrooms and online learning conferences. Share audio, video, presentations, and your desktop while also collaborating with students using a whiteboard, shared notes, polls, and chat.
ClickMeeting is a good choice for organizations that hold webinars regularly. It has live question and answer features and live polling to engage audiences. The automated follow-up feature keeps you connected after a successful webinar. You can share your screen, play slideshows and videos, and even let attendees take over your mouse to explore an interactive display
Cyberlink U Meeting is web-based, so there is no software to download. It is feature-rich but does not offer video recording or the ability to dial into meetings via VoIP. Most noteworthy is the PerfectCam feature that makes video conferencing footage look better. It enhances the lighting, blurs the background, and even adds CGI makeup to your face. Select from various looks and shades to get the right look for your conference.
Google Meet offers video conferencing as an integrated part of Google Workspace. It is an affordable platform for any size business.
Three More Conferencing Software Apps
GoToMeeting is a mobile-friendly video conferencing app. Set up and start a virtual meeting from a smartphone with mobile apps for Android and iOS. GoToMeeting is the standalone videoconferencing service provided by LogMeIn. As expected, it provides audio and video conferencing, as well as screen sharing.
Lifesize supports 4k video conferencing. Hardware devices are included meaning that users get numerous devices with each plan. This offering frees users from relying on their own integrated camera systems Lifesize Go is the free version. It is browser-based, so no app downloads. Users can host unlimited video calls of any length with eight participants or less. no caps on meeting length and no app downloads.
Microsoft Teams provides video conferencing with Microsoft 365 app integration that hosts up to 10,000 participants with scheduled invites, live captioning, and background blur features.
Four Additional Current Cloud Conferencing Apps
RemotePC Meeting offers outstanding security and a robust array of features. Create meetings and share them with a clickable link. There is a Chrome extension, and it integrates with Google, Outlook, and Yahoo calendars. Join meetings via the Internet or VoIP. Screen sharing, recording, whiteboard, and chat capabilities are a few of the advanced features available.
RingCentral MVP Is an office video conferencing software with video call recording and scheduling, screen sharing and annotation, and in-built chat capabilities. RingCentral integrations enable you to schedule and begin calls directly from Slack, Google Workspace, and Microsoft 365
Zoho Meeting wins with simplicity. There are no complex settings to adjust before the start of your first call. For webinars and online conferences large meetings are affordable but without many other features.
Zoom, the well-known video conferencing platform, is quick and easy setup and HD video and audio. It supports up to 1,000 users at once, and forty-nine videos on a single screen. Save meetings and searchable transcripts, share screens, and files, and enjoy a free version with many quality features.