Please keep reading if an AV update in Glendale, CA, is on your agenda. Aside from updating technology, there are additional advantages to audiovisual improvement in Glendale. Up You can see that Glendale would benefit from modernizing its audiovisual equipment. Custom AV refresh programs are necessary to replace AV hardware, upgrade failing AV systems, or revive audiovisual equipment. And Vizual Symphony backs AV upgrades with the industry's best available support, service, and training. Here we discuss how an AV update in Glendale improves life.
An AV Update Includes More Than You Might Expect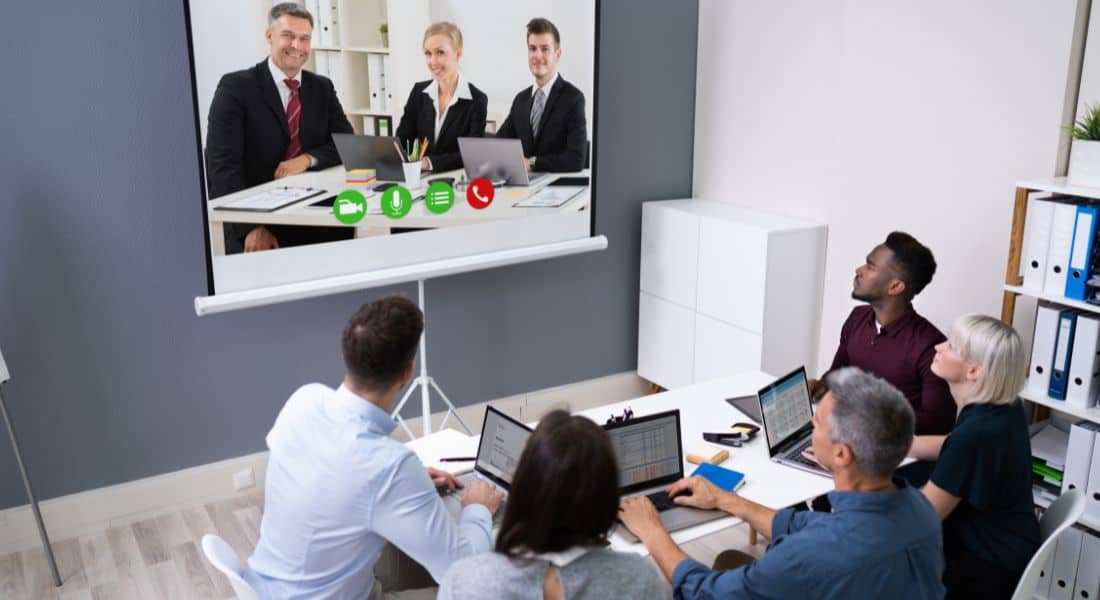 An audiovisual update in Glendale for antiquated technology, old components, and entire AV systems is often overdue. Upgrading goes beyond replacing the old AV with the same AV, only newer. And what an AV Integrator can do is way beyond downloading and installing the periodic operating system and application updates. The 2020s have ushered in technological breakthroughs in communication and sharing information like never before. As a result, more advanced options are always available, from distance learning and training to live streaming and conferencing.
For many years, the expectation was to update or upgrade AV systems and audiovisuals in Glendale every three to seven years. However, the time between updates is much shorter and more frequent for businesses, organizations, and institutions. An audiovisual update cycle is a program to update AV technology and infrastructure on a schedule. Meeting specific needs and goals requires a custom audiovisual update plan. In addition, any business with AV systems in place can use an audiovisual update plan to standardize equipment and integrate recent technology.
Committing to an AV technology update schedule also benefits organizations installing AV for the first time. Finally, setting a technology update cycle assures that audiovisual capabilities stay relevant. So, here are the benefits of scheduling regular audiovisual updates in Glendale.
Audiovisual Updates in Glendale Eliminate Audio Video Tech Dread And Frustration
When AV communication systems work flawlessly, productivity and company morale skyrocket. By contrast, frustration builds, and communications suffer when faulty equipment or incompatible components fail continuously. As a result, poor audiovisual systems increase downtime, kill productivity, and decrease profitability. But what can be even worse than that is the feeling of dread.
Widespread AV tech dread kills morale. When team members experience repeated tech failures, they expect tech to fail. With that expectation comes a feeling of dread knowing technology will inevitably sabotage them. Pervasive tech dread, ruins collaboration and makes people unpredictable and unmotivated. Update AV in Glendale to support reliable communication that boosts productivity and achieves your goals before it is too late.
Raise Morale With The Best In User-Friendly Audiovisual Technology
An audiovisual update in Glendale sometimes means letting go of equipment that is no longer workable. Holding on to AV equipment for too long is a mistake that can be costly. All out-of-date AV components and technology will do is hold you back. If you work with Vizual Symphony, the best-of-class AV solutions are affordable. We know that no one can afford to have poor-quality audio and video technology today. The advances and innovations in audiovisuals are blazing ahead at a record pace. We keep your AV systems up-to-date, easy to use, and frustration-free. Rely on the best local Commercial AV integrator Glendale recommends.
Boost Your Image And Brand With A Glendale AV Upgrade
Projecting suitable brand image is more important than ever in Glendale. No matter what, being behind the times is a disadvantage. However, being on the leading edge is a sign of success. Professionals need current AV technology to be and look their best today. In the audiovisual technology industry, technology is advancing, and innovation continues. Setting an audiovisual refresh schedule in Glendale allows you to use exciting new AV.
Vizual Symphony Means System Training As Well As Ongoing Audiovisual Support
Glendale's audiovisual upgrade cycle will include integration, installation, and refreshing technology and components. But that is not all. Equally important is access to continual follow-up, ongoing training, and system support. As a result, our update plans include everything from advanced system-level integration support to component-level user training.
Commercial AV Integrator for AV Updates in Glendale
You can see that Glendale would benefit from modernizing its audiovisual equipment. Consulting solutions and integration experts at Vizual Symphony is the answer, With support and training, investing in audiovisual updates and upgrades in Glendale is wise. To maximize ROI, partnering with an experienced local AV integrator is essential. We would love to discuss upgrading AV hardware in Glendale, updating AV components, and bettering your technology. We can help you stop AV tech dread from killing morale and our consultations are always free. Contact us here or call (626) 229 9112