The commercial AV integrator Glendale headquarters in Vizual Symphony. Learn how to improve your audio visual systems cost-effectively.
How Well Does Your AV in Glendale Perform?
AV in Glendale schools, churches, museums, and workplaces is vital. Undoubtedly, AV equipment touches every facet of modern life today. So, how are the AV systems and technology integrations you use to communicate, teach, train, learn, meet, work, design, earn, and create? Audiovisual system performance generally decreases over time. So, the older the equipment, the more outdated the technology is, and worse the system will perform.
Assume that AV in Glendale is in place to produce desired results and reach goals. Of course, this is the case for corporate businesses, schools, government, churches, and others. Most likely, some Glendale organizations are getting amazing results. And others are not. So, knowing that outdated AV does not produce optimal results, and the worst is yet to come as time goes by, what are the solutions?
Is Your AV Outdated?
Well, aging audio video hardware and AV in Glendale, and anywhere else, puts the users at a disadvantage. The ramifications can extend to losing customers, lost revenue, and even business closure. The most straightforward way to resolve outdated AV systems and components is to replace, update, or upgrade them.
Of course, you must update, upgrade, or risk falling behind. Unfortunately, however, the funds for new tech are available for some, not so much for others. Tech developments and audiovisual innovations come to market and become part of daily life at a mind-bending pace. And that trend will continue, most likely. So, obsolete components that eventually impede system functioning cannot stand. And those who know that best want to know how to pay for the AV in Glendale.
What Does AV Equipment Cost in Glendale?
Because new AV hardware is so expensive, business owners tend to hold on to outdated technology. That tactic may work for a while, but not for long. Instead of wondering if your audio visual system integration -tech hardware you require. Through our distinctive Vizual Shield managed services program, we accomplish this. Our clients receive the most cutting-edge AV technology as part of this plan, along with future updates without exorbitant costs. 
Vizual Symphony System Integration and Commercial Audio Visual Managed Services
Let us show you exactly how and why business owners and organization heads are using our Vizual Shield Audio Visual as a Service (AVaaS) program. Discover that the AV in Glendale you need to remain competitive is within reach. The sensible way to afford audiovisual technology solutions is with a handy, monthly payment option. Get the systems integration services and support without the high upfront fees and with more protection and flexibility.
AVaaS is a way to pay for your solution available only through integrator, Vizual Symphony. It enables us to bundle commercial AV integration solutions and system support services into a convenient monthly payment option. AVaaS provides organizations with more freedom, control, and the ability to get the best technology.
A crucial part of the Vizual Shield managed services program is the hardware. Business owners are well aware of the high cost of audio-visual equipment. You will receive the most recent, cutting-edge equipment as part of this special AV as a Service (AVaaS) included in your solution bundle. Our knowledgeable Vizual Symphony team is always gaining as much knowledge as we can about the best hardware and technology available. We work hard to put our knowledge in AV hardware to work for our clients.
Get a free copy of "7 Steps to Audio Visual Managed Services" to learn more.
Your industry and goals will have a big impact on the audio visual tech you need. We are aware that there are no hardware packages for businesses and organizations that are universally applicable, which is why the Vizual Symphony consultation is so essential to the procedure.
Commercial AV Integrator Glendale Consultant
It is crucial to have a provider you can rely on to point you in the right direction when it comes to updating the audio/video equipment for your company or organization. It may be a difficult and perplexing procedure. As part of our AV as a Service (AVaaS) initiative called Vizual Shield, Vizual Symphony offers a comprehensive and individualized consulting process since we are familiar with the unique requirements of companies just like yours.
Our consultants pay careful attention while you speak to understand your company's or organization's vision.
We want to know everything. That includes your target market, your most challenging obstacles, and your brightest ideas so we can support you in realizing your objectives. Then, we can perform to the best of our abilities thanks to the chance to collaborate closely with your team.
Your Vizual Symphony consultants and integrators will be active in the procedure, starting with the initial consultation onward. Additionally, because you are using our AVaaS Visual Shield, our knowledgeable advisors will be by your side throughout your contract to offer advice and support as needed.
How Does Glendale Use Municipal AV for Collaboration?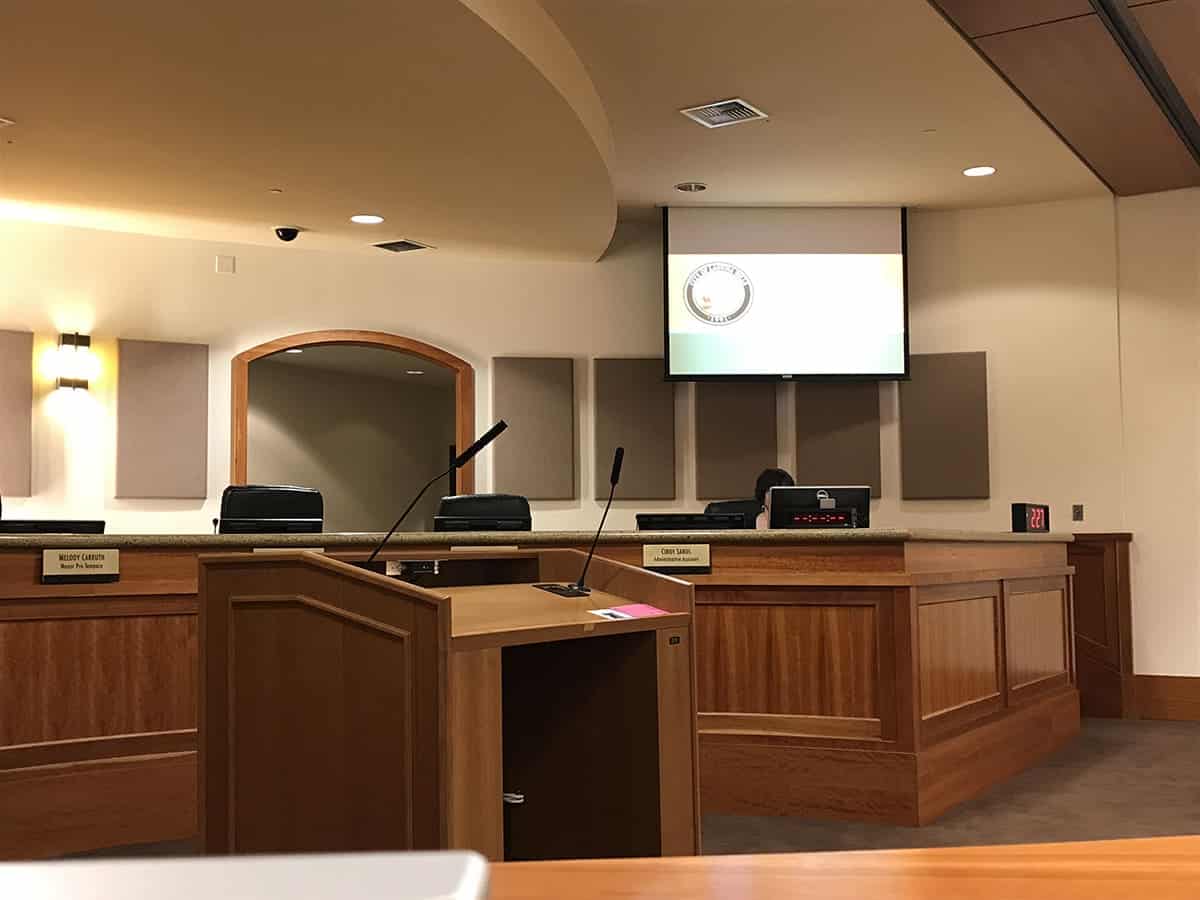 Municipalities today frequently need the best audio video hardware options for streaming, recording, and
video conferencing meetings. There is also a need for welcome centers, self-service kiosks, and digital signage, in addition to public warning and alarm system AV integrations.
Municipal buildings and government facilities in Glendale can and do harness the power of digital signage in diverse ways. The courts heavily rely on court docket digital displays with real-time updates. Digital courtroom signage keeps courthouse visitors aware of current court information like case numbers, court times, and court hearing locations.
Another use for digital signage to assist the visitor with wayfinding and directing. Government buildings tend to be intimidating for visitors. Interactive navigation assistance will reduce visitor anxiety. It also helps individuals approach a screen or kiosk rather than face the embarrassment of asking someone for directions.
Informational displays educate the public and municipal staff on current California initiatives and upcoming Glendale events. Also, custom infotainment content engages, informs, and entertains visitors while they wait.
See how Vizual Symphony upgraded a local municipality's City Council Chambers technology to help it run more efficiently.
Building safety is where digital signage is essential. Emergency alerts can interrupt set messaging, protecting the public and staff. The ability to instantly warn crowds about severe weather or active shooters and direct them to safety is critical. With central digital signage content management, this is possible. For government digital signage, there is one key takeaway. It can improve public access to services and improve communication with the public, officials, and staff.
Start With A Consultation
Vizual Symphony understands that audio visual technology is vastly different from what it was in 2001 when the company started. And these innovations directly influence the services our clients want and need. However, the focus is on building long-lasting relationships with clients. And she has a true knack for creating AV solutions that help clients do what they do – better. 
The team has years of experience in audiovisual innovation, consultancy, design, setup, and upkeep. Why are we the top Glendale AV commercial integration company? So, our team stays on the leading edge of innovative tech and upcoming audio-visual innovations.  Please call (626) 229 9112 to talk to us about your AV.
To talk to us about our affordable AV solutions, contact us for a free consultation.