AV Integrator Azusa, Vizual Symphony, provides technology solutions for education, corporations, municipalities, houses of worship, and museums. And from these diverse industries come organizations and companies with unique goals and limitations.
Fortunately, there is a wide assortment of cloud conferencing apps and technology for web and video conferencing. And designing and creating custom cloud meeting systems is what an AV Integrator does. So, Vizual Symphony ensures clients have fully integrated seamless conferencing systems in Azusa.
Cloud Video Conferencing Apps
Whether you need a cloud meeting app for individual use or your team, there are considerations to make. Selecting the best app for your needs depends on features and cost. Finding out what parts will help you achieve your goals and allocating a budget is where to start.
Here are a few readily available video conferencing apps on the market. All of them are cloud-based meeting apps. And this is not a comprehensive list. Instead, learn about some of the most popular conferencing platforms' costs, pros, cons, and standout features.
Ring Central
Ring Central prioritizes security and customization to meet users' unique needs. In addition, this affordable conferencing app has one huge advantage. Ring Central does not limit meeting length for teams needing extended collaboration sessions. The cost is $11.99/month for the entry-level paid subscription. Additionally, 10GB of cloud storage for recorded meetings is available, but no analytics whatsoever.
Zoom
Zoom is the go-to for video meeting beginners and has replaced face-to-face meetups for many. Both free and paid options provide a seamless video conferencing experience. And it leads the industry in ease of use. There are complaints about audio quality and the 40-minute session limits. However, reasonably priced tiered service plans let you pay for what you need starting at under $13.00/month.
GoToMeeting
GoToMeeting is a reliable, secure video call app. It offers crystal-clear audio, video, and screen-sharing capabilities. The free plan limits meetings to 40 minutes. Paid plans start at $12.00month, with no time limits and unlimited cloud storage.
Google Meet
Google Meet is easy to use and provides reliable audio and video for infrequent remote meetings. Problems stem from connectivity disconnects that, unfortunately, frequently happen. Free plans limit sessions to one hour; paid plans at $6.00/month can meet much longer. Dedicated Google users love the compatibility with Google Calendar, saved chat logs, and other Google app integrations.
AV Integrators Azusa Can Reduce Your Expenses
With these apps, you can conduct remote meetings with ease and high-quality audio. You probably know what cloud video conferencing is? Cloud video conferencing is a cloud-based digital solution that allows businesses to hold instant High Definition video meetings with anyone connected to the Internet. But, unless you are using it as a business owner, you may wonder how it can benefit your organization. By removing location limitations, you can connect with any employee or client, no matter where they are. That has multiple benefits. For example, it can reduce the need for business travel and its expense.
Conferencing System Integrations Boost Productivity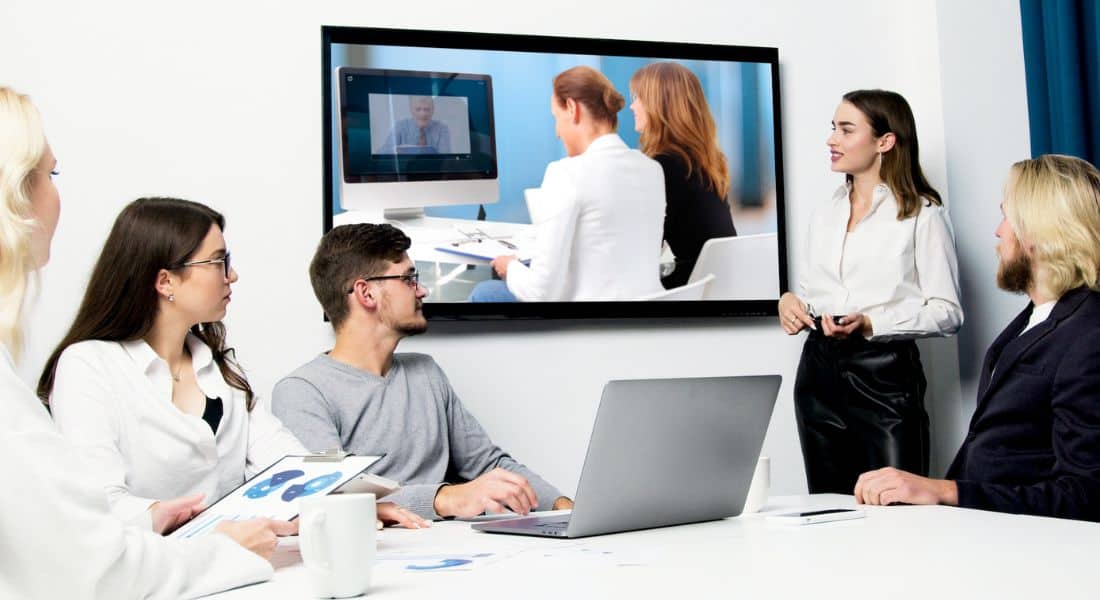 Additionally, you can increase productivity by allowing your employees to focus on tasks while the cloud service provider handles the details. With the right cloud video conferencing services, you can experience the highest quality audio and video for your meetings, which helps put your business's best face forward to prospects and clients.
At Vizual Symphony, we can help you implement cloud-based video conferencing for your business. From considering your company culture nuances to complementing your specific organization's practices, understanding your needs is essential. The goal is to outfit your team with the latest technology in sound management, unified communications, and video conferencing options. Our customized packages are designed to meet your specific needs and budget, and our AVaaS program makes our products and services affordable and personalized. Do not settle for less than the latest tech has to offer.
AV Integration Services Near Me
Are you looking for a reliable AV integrator near Glendale? Vizual Symphony in Glendale, serves Riverside, Azusa, San Bernardino, are surrounding areas in California. Find out more about our comprehensive audiovisual services.  Finding the right commercial audiovisual company to design and install AV technology for your corporation, institution, museum, municipality, or place of worship can be challenging. Consider factors like your budget, goals, needs, and timeline to make the search easier. And look for a local industry leader for the best results. hire the AV integrator Azusa recommends, that is us.
Ask Audio And Video Questions
Asking the right questions is crucial to finding workable options for your AV project. For instance, you should inquire whether the AV company specializes in installing audio-visual technology, if they are a professional Azusa AV integration company, and if they can handle all the AV integration services you require.
Other important questions include whether the AV integrator adheres to industry standards, certifications, regulations, organizations, and whether they have a good reputation in the AV industry. It would help if you also considered whether they offer ongoing system servicing, preventative maintenance services, and training at all levels on the new AV system.
The best AV integrators have a streamlined yet personalized consultation process, asking for information about your audiovisual goals, AV installation requirements, audio-visual design desires, AV system integration needs, space location, location size and measurements, space specifications, desired timeline, and project budget.
AV Technology Solutions For Business
As a business owner, you want to ensure your company performs at its best. One of the essential aspects of any business is having reliable audio and visual equipment. Whether you are hosting a conference, a meeting, or a presentation, you want to ensure you have the best AV setup possible. That is where as an AV integrator, we come in.
We are AV integrator professionals who specialize in designing and installing audio and visual systems. Experts in the field, we create customized AV solutions that meet your needs. Any conferencing option you choose must serve the purpose and goals of the collaborators. Here are some of the benefits of working with an AV integrator:
Customized Audiovisual Systems
AV integrators will work with you to design and install a customized AV system that meets your needs. They will take the time to understand your business and what you want to achieve with your AV setup. That means you will get a system tailored to your needs and work seamlessly with your business operations.
Professional Installation
AV integrators have years of experience integrating audio and visual systems. They know the ins and outs of different equipment and can ensure that everything works correctly. So, your system will work smoothly and be less likely to experience technical difficulties.
Ongoing Tech Support
AV integrators do not just install your system and disappear. Instead, they provide ongoing support to ensure your system works correctly, including regular maintenance, repairs, and upgrades. As a result, you can rest assured that your AV system will always be up and running.
Cost Savings
Working with an AV integrator can save you money in the long run. They can help you choose the right equipment for your business, which can be more cost-effective than buying it yourself. Additionally, their expertise can help you avoid costly mistakes from a DIY approach.
Vizual Symphony Consultants Want To Meet With You
In conclusion, working with an AV integrator Azusa businesses can benefit greatly. From customized solutions to ongoing support, they can ensure your AV system works at its best. Consider working with an AV integrator for your next project. Vizual Symphony's success stories date back over twenty years. And we are still bringing ideas in focus for our clients. See for yourself. Learn more about us through our most recent projects and case studies.
At Vizual Symphony, we understand the importance of supporting a collaborative environment with video conferencing. Our process is hassle-free and customized to meet the needs of your organization. We take care of every aspect, from designing audio-visual systems to installation, integration, and maintenance. Contact us today at (626) 229 9112 to schedule a consultation with one of our experts.