The video conferencing San Bernardino businesses and organizations have in place, in many cases, needs updating. Whether your systems need an update or an upgrade, Vizual symphony can help with solutions. You can get the best in class technology you want and reach you goals with our AV integration experts. But first, we will discuss web and video conference differences, and how to select a conferencing platform.
What is Web Conferencing?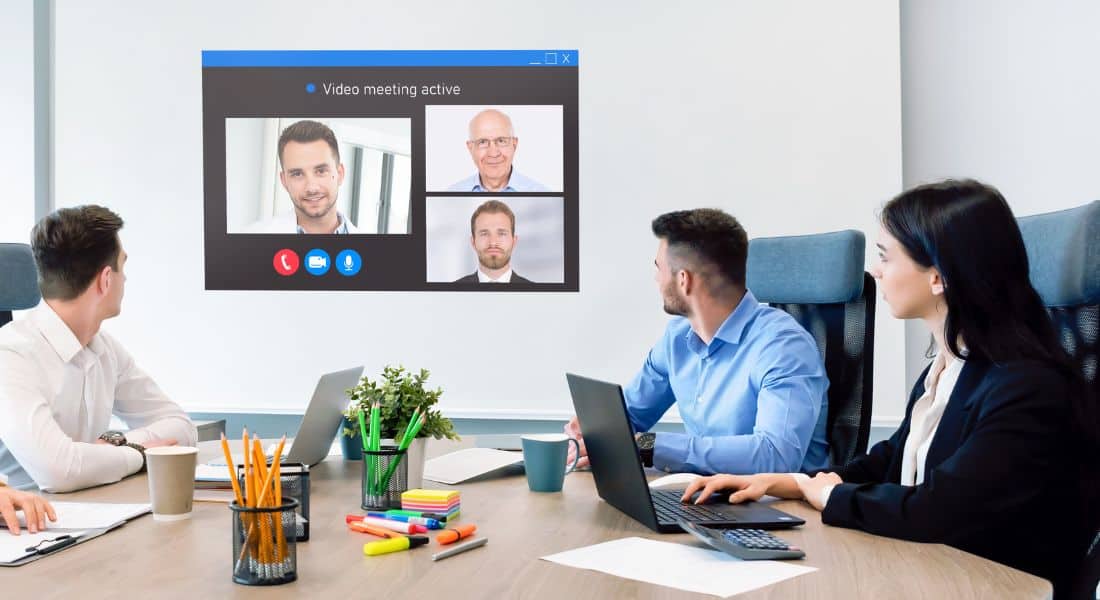 A web conference is a way to make calls or host conferences for numerous individuals online. It is a general phrase that covers a wide range of digital conferencing systems and solutions, including screen sharing and video conferencing. Also, it supports a variety of AV gadgets, including VoIP phones, laptops, and smartphones.
Web Real-Time Communication (WebRTC), an open-source API developed jointly by Mozilla, Apple, Microsoft, and Google, is one of the fundamental technologies that enable web teleconferencing.
Regardless of the number of participants, it allows browsers to broadcast high-quality voice and data audio in real time. In addition, WebRTC enabled online conferencing to function in a browser's native mode, significantly increasing the technology's adoption.
Web conferencing, video conferencing, cloud conferencing, virtual conferencing, and Internet conferencing are confusing terms. In daily conversation, the words are interchangeable. Although they technically can signify the same thing, they have significant variations.
Any audio visual technology that allows for real-time audio and video transmission qualifies as video conferencing. However, video conferencing technologies were available in the 1980s before the Internet became widely used. Therefore, it is optional.
This is Web Conferencing San Bernardino
Contrarily, web conferencing is the umbrella word for any online virtual conference service. One of them, which makes it a part of web conferencing, is video conferencing. Web conferencing also adds features like screen sharing, instant chat, and virtual whiteboards.
In addition to the technical justification, they also vary in usage. For example, a web conference is most often used to describe a gathering where one person addresses a large group of people, such as during a presentation, live event, or training session. As a result, web conferences have a massive number of participants. As a result, they necessitate quick Internet speeds and careful moderation. Check out our Web Conferencing Guide.
What is a Video Conference?
In comparison, a video conference is more of a call because everyone has the same amount of "speaking time" rather than just the host. To promote conversation, it is also essential that each person has a video camera and microphone turned on. It is, therefore, more suited to collaborative and brainstorming weekly huddles and virtual meetings.
Although not usual, the platforms used for video conferencing are like those used for web conferencing. It could be where the confusion between these two terms began.
Practical Uses For Online Video Conferencing Technology Services
Web conferencing has several practical uses, making conducting business across great distances easier. Some of the most frequent are daily team meetings across branches and virtual meetings. For instance, it allows the New York marketing team and the Los Angeles sales team to work together. Moreover, tools like screen and file sharing enable the swift transfer of resources between the two groups. And collaboration of this nature has all but eliminated the need for business travel in many cases.
Another thing that this technology makes possible is video conferences, which were previously cost-prohibitive. Without needing to fly everyone to the headquarters, management from the main office, for instance, can have a company-wide meeting at several locations. Learn more about how to use virtual conferencing.
Now, you can use webinars to conduct online training and educational sessions. For example, HR and technical training teams can use conferencing to host and train new hires online instead of requiring employees to report to a training center. Thereby, reducing travel costs for new hire training.
Web conferencing can also be a powerful marketing tool. You can invite evangelists or influencers to host webinars and discuss their experience with a particular product or service. Your clients can then sign up to watch the live or recorded presentation. In addition, meeting virtually via online conferencing is a more affordable alternative to conducting and traveling to pricey conferences and live events.
What To Consider When Choosing A Web-Based Conference Platform For Meeting Room Systems
Face-to-face business meetings are going by the wayside, with many increasingly using video conferencing solutions as their primary tool for office communications. Web conferencing systems and cloud conferencing services have gotten much more powerful and feature-rich as they have matured. Numerous video conferencing systems offer screen sharing, virtual whiteboards, and other features to enhance collaboration.
As a result, if you are looking for one, you will have many choices. And most prominent technology companies now sell some online and cloud video conferencing software. Zoom is, of course, the most well-known web conferencing application. Webex, Microsoft Teams, Google Meet, and Slack are other examples. "How do I choose one?" you are undoubtedly wondering. Here are some factors to consider when updating your systems:
Premium Paid Online Conferencing Options Versus Free Versions
As Zoom demonstrated, free online video conferencing models are adequate for most customers. Free versions include good audio and video quality and basic capabilities such as instant chat and file sharing. Free choices are enough for small teams that only require a few users.
Premium options provide access to additional features such as collaboration tools, support for a more significant number of participants, and interaction with other corporate systems. Consider purchasing a premium option if these requirements are critical to your organization.
Web Conferencing Platform Utilization Ease
A decent web conferencing platform should make starting or joining meetings as simple as picking up a phone and dialing. Remember that only some people are technologically skilled, so ensure that anyone in your business can pick it up and utilize it naturally. It is also a plus if consumers can participate in the conference from any device without downloading software.
Virtual Conferencing Security Measures
Video conference room systems should have as much security as meetings held in a conference room behind closed doors. Ensure the media technology platform has many layers of protection and access control to control who attends the event.
Video Conferencing Features
All else being equal, the features of conferencing solutions may be the deciding factor. What you are looking for will be determined by your requirements.
Do you frequently host webinars with hundreds of participants?
If this is the case, finding a custom conference solution that can support a large audience without slowing down is best.
Do you hold brainstorming meetings regularly?
Then, ensure the cloud technology services and solutions you use in your conference room include collaboration tools like whiteboards, polling, and screen sharing.
Online Conferencing Platform Pricing
Value for your money should always be at the top of your priority list. No, it does not necessarily imply selecting the cheapest choice. Instead, it means you are getting a good deal on features that are important to you.
Technology Integrator, Vizual Symphony, Updates And Upgrades Conferencing Systems
Find out more about our conferencing services. Our knowledgeable audio visual consultants ensure your organization has the right video conferencing solution and collaboration technology to meet your needs in San Bernardino. We are leader in audio and video integration Improve virtual communication with an updated video conferencing system today. Your audio and visual technology systems need to be easy to use, reliable, and dependable in multiple rooms and spaces. Contact us today for a free AV consultation at (626) 229 9112 or online.