A commercial AV integrator Azusa corporations, organizations, and institutions need like never before. We understand how overwhelming and confusing it is for many organizations to upgrade their audiovisual systems. It can be incredibly frustrating to be unsure which technology systems and components to select.
Best AV Integration Service Near Me
So, corporations, schools, governments, museums, houses of worship, and organizations face a technology dilemma. Part of the problem is that it is time for a tech update or upgrade, and they have no idea what to do about it. It is risky to make technology purchasing decisions without the necessary expertise. For many in this situation, finding a dependable source to assist in creating affordable and effective technology decisions is a challenge. And, without guidance, they feel stuck – and nothing happens, as their AV systems gets more outdated by the day.
Feeling stuck with old technology is an unpleasant place to be. Given the complexity of integrating audio and video technology solutions, only a professional audio visual consulting company can effectively handle the task. Fortunately, an experienced commercial audio-visual integrator in Azusa will guide you in the right direction.
Commercial Audiovisual Integration, Consulting, Installation, & More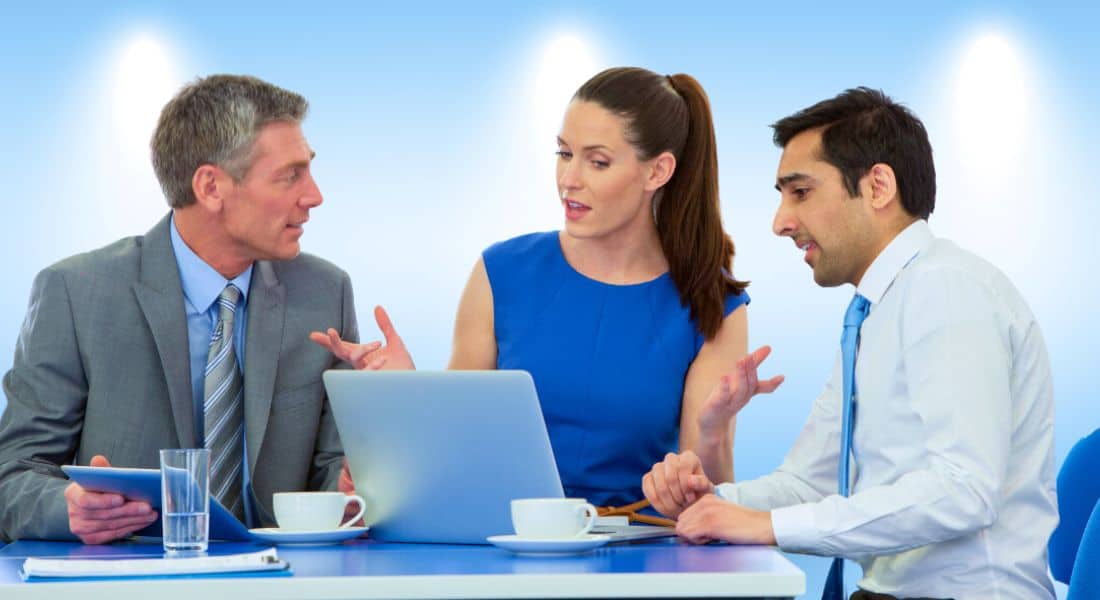 With over two decades of experience, we have a reputation for trustworthy consulting, innovative design, and excellent customer support. Our team creates custom AV designs to help clients achieve their goals while staying within budget.
Although integration parameters are uniquely specific to individual projects and clients, we see standard key requirements. And of these, three stand out as almost universal for all projects and clients. These are as follows:
Quality: Seamless transmission of the highest-quality audio and video
Ease Of Use: Simple, straightforward operation that most users can operate without needing IT support assistance
Connectivity: The ability to connect from any device quickly, easily, and consistently.
We work with clients in several sectors, including corporations, education, houses of worship, municipalities, and museums. And we invite any corporation, organization, or institution considering a tech upgrade, update, or addition to start with a free consultation. For reliable AV technology guidance from Vizual Symphony, please call us at (626) 229 9112.
Azusa Pacific University Duke Commons Upgrade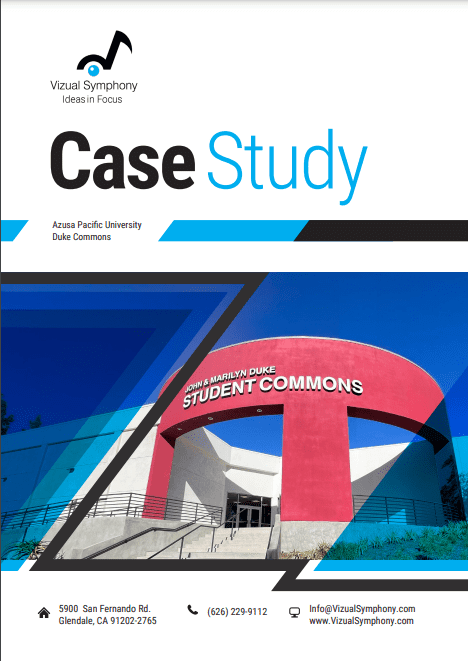 At Vizual Symphony, our expert teams provides our clients with top-notch audiovisual integration, design, and installation services. And often, our tailored solutions exceed expectations. Recently, we had the opportunity to work with Azusa Pacific University on redesigning the Duke Commons. As the AV provider for the university's classrooms and HyFlex learning environments for 20 years, Vizual Symphony has an established working relationship with the university.
"We always come back to Vizual Symphony because they are just a lot more flexible when we have issues. For example, Susan will send someone out immediately when we have a problem, whereas, with other companies, you must go through a project manager, wait for a callback, and then wait again for service. When you have a classroom that's down, you can't wait, and Vizual Symphony understands this." APU's Classroom Technology and Media Engineer Mark Case
The John and Marilyn Duke Student Commons opened in Fall 2022 after an impressive upgrade. Vizual Symphony integrated new AV technology, background music, large screens, and digital signage that can broadcast chapel productions and sporting events into the space. Learn more about this project in the case study.
Get Vizual Shield For Business Audio Video Integration Services
At Vizual Symphony, we prioritize empowering our clients with the knowledge necessary to adopt new technology confidently. Our consultants take the time to learn about your unique needs, whether you are a private corporation, educational institution, house of worship, museum, or government facility.
We listen to you and note every detail to ensure that our AVaaS program meets your specific requirements. This thorough approach is the foundation of our process, and we are committed to engaging with you throughout every phase of your project, from start to finish. Additionally, Azusa commercial AV integrators provide the necessary support and training after the installation process.
Vizual Symphony Managed Services
At Vizual Symphony, we offer an AV as a Service (AVaaS) program called Vizual Shield. Our skilled consultants use this program to empower you with the knowledge necessary to adopt new technology confidently. We are committed to engaging with you throughout every project phase, from beginning to end. Additionally, we provide the support and training needed after the installation process.
Vizual Shield prioritizes our clients' peace of mind by providing ongoing support. We train employees in new equipment, something that other companies may not offer. Our commitment to you lasts as long as you need it, and we are always here to assist you. Our support and managed services program consist of seven parts designed to keep you and your business running smoothly. You can trust us to prioritize your needs and provide the support you deserve.
Managed AV as a Service
1. Consultancy
2. Hardware
3. Personalize
4. Installation
5. SLA Contracts
6. Replace
7. Recycle
Utilizing managed services can enhance our uptime and improve our tech reliability. Not only does this program help us cut down on costs, but it also reduces the IT support workload for our clients. Our AVaaS clients benefit from superior user experience and can rely on us for seamless lifecycle support.
Visual and Sound Technology Experts
At Vizual Symphony, we pride ourselves on being able to provide our clients with accurate project cost and time expectations based on our extensive experience in the field. We also have a team of design, video, audio, and visual specialists who can help with any commercial project. We can integrate any audio-video system in all types of rooms or spaces. You can trust us with your AV systems management regarding AV and technology design consulting.
Our top-notch support ensures that your AV system performance is always optimal. Whether your team is technology literate, computer illiterate, or in between, we train and support you at all levels every step of the way. Check out our latest case studies to see our work.
Are you looking for professional AV technology services in your area? Look no further than Vizual Symphony. Our team specializes in custom AV solutions for various organizations and institutions, including churches, corporations, museums, and municipalities. We offer affordable designs and expert advice to help you get the most out of your technology investment. Contact us to schedule a free consultation and learn more about how a commercial AV integrator in Azusa can benefit your business. You can reach us at (626) 229 9112.