The AV systems integrator Riverside needs is experienced. Experience is the key to successful AV systems integration. AV systems integrators possess the knowledge and expertise to identify and troubleshoot issues related to equipment compatibility, signal routing, workflow efficiency, and scalability. These integrators have seen it all and have the reputation, testimonials, and clients to prove it.
An Audiovisual Integrator Solves Problems
One of the most significant benefits of working with an AV systems integrator in Riverside is their ability to identify potential problems before they occur. Integrators can preemptively address potential bottlenecks and challenges before they become significant issues. Preemptive problem-solving can not only save time and money but also keep projects on time and within budget. Here are some of the potential problems that AV systems integrators can identify and solve:
1. Equipment Compatibility: AV systems integrators can identify potential compatibility issues between different pieces of equipment. They can ensure that all the components of the system work together seamlessly and efficiently.
2. Signal Routing: Integrators can assist with designing and implementing a signal routing plan for optimal flow and quality, especially in extensive facilities and studios where routing can be complex.
3. Workflow Efficiency: Integrators can help optimize workflow efficiency and lessen user error risks by designing a system that is intuitive and easy to use.
4. Scalability: Integrators can help design a system that is scalable and can grow with your organization to save money eventually by avoiding the need for a complete system overhaul down the road.
In short, working with an AV systems integrator can be a game-changer for your project. Integrators have the experience and expertise to identify and solve potential problems, ensuring that your project is on time, within budget, and to your satisfaction.
Please do not hesitate to enlist the support of a systems integration firm. Concerns with escalating costs in the face of a finite budget are real. If these concerns keep you from hiring an AV integrator, please get in touch with us. Check out our post about the factors to consider when hiring an Audio Visual integration company.
Lightening Fast Technology Support From An AV Integrator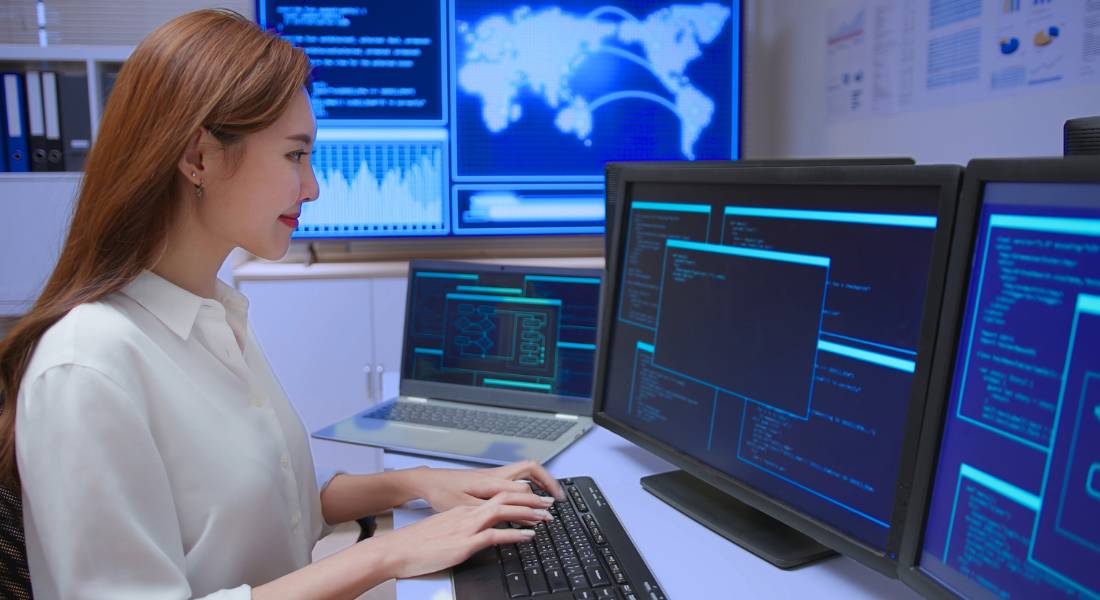 Proceeding without an experienced AV systems integrator can result in hidden costs that prove extremely expensive. Attempting to learn everything required to integrate audiovisual when AV is not your expertise is impossible. Moreover, unfortunately, there are no cookie-cutter solutions for integrating AV. Nor is there an app to find the perfect solution to meet your AV needs in a few clicks.
Experience is crucial when it comes to systems integration. There is no substitute for it. Integrators who are seasoned professionals have encountered and navigated unforeseen hurdles in every project in their portfolio. It is the job of the systems integrator to get the complete project and work on behalf of the clients.
For example, manufacturers usually have a pre-established product roadmap for their technology. You may want certain features that are not part of that roadmap, but alone, your request may not get the urgency you need from the vendor. Systems integrators push the manufacturer on behalf of their clients. They may even troubleshoot and figure things out before the manufacturer. That is the benefit of having a partner from both the client's and the manufacturer's perspective.
To help you consider bringing on a systems integrator as a partner on your next project, we have compiled a list. These are the top 10 benefits of hiring an audiovisual integrator, Riverside. .
Top 10 Reasons To Work With An Audio Visual Integrator
1. They Have AV Integration Experience
Professional integrators have accumulated countless hours working in various industries on diverse projects. As a result, integrators have already seen what can go wrong, so they help their clients avoid pitfalls and issues.
Integrators possess the knowledge and expertise to identify potential problems related to equipment compatibility, signal routing, workflow efficiency, and scalability. By learning from previous projects, their insight can save time, money, and resources. This collective expertise allows systems integrators to fine-tune each aspect of AV systems, resulting in a more streamlined and functional setup.
Integrators offer clients unparalleled guidance and audiovisual solutions that stem from years of practical experience. This experience also allows them to identify unique solutions that others may not know anything about.
2. Integrators Have Purchasing Power
Partnering with top AV systems integration firms during equipment procurement is another compelling reason for clients. Integrators maintain partnerships with numerous manufacturers, which grants them considerable purchasing power. Manufacturers understand that a single instance of equipment failure or misalignment can result in the loss of future sales to an integrator. Consequently, manufacturers ensure that integrators have access to reliable, well-tested components.
Entities working in isolation may not wield the same purchasing power. Partnering with audiovisual systems integrators ensures a seamless selection of technology and a higher likelihood of project success due to the integrator's established rapport with manufacturers. This rapport allows integrators to recommend thoroughly tested audiovisual technology that is known to work well with other components in the system.
3. Their Expert Knowledge Minimizes Risks
The risks associated with undertaking an AV integration project without expert guidance are substantial. Errors in system design, technology selection, and project management can lead to costly delays, inadequate functionality, and even project failure.
An audio-visual integrator possess a holistic understanding of technology ecosystems and can preemptively address potential bottlenecks and challenges. The knowledge they have is something they glean from their experience working with different manufacturers and customized applications. Working with multiple manufacturers, allows integration specialists to continually validate how well technologies work together. Yet another way an integrator's expertise is invaluable to their clients.
4. They Are Willing To Help At Any Point
It is important to note that it is never too late to call in support from an systems integration services company. Unexpected things are bound to happen during a technology integration project, and integrators often join projects at different process points.
While it is ideal to bring in an integrator at the beginning of a project, it is not always possible. If you are in a pickle and feel like something is just not working, please reach out to a systems integrator. They can help identify and troubleshoot issues, recommend solutions, and provide valuable insights to speed up the project and keep costs down.
5. Project Management Is Their Specialty
Project management is a critical facet of successful AV system integration. Integrators have dedicated project managers who specialize in overseeing complex projects from inception to completion. This experience-driven approach minimizes the risk of miscommunication, scope creep, and project delays.
Integrators know how to balance technical requirements, budget limitations, and timeline constraints to deliver a fully functional AV system on schedule. That ensures that clients receive high-quality work that meets their unique needs.
Organizations that manage projects independently often face the opportunity cost of diverting valuable internal resources from their core competencies. While staff members may excel in their respective fields, they may lack the project management skills required for seamless execution. That can lead to less than optimal results, strained resources, and project failure.
Even under the best circumstances, if the person managing the project does not have the required background, success is unlikely. By partnering with AV systems integrators, clients can leverage their expertise, experience, and project management skills to ensure the success of their AV integration project.
6. They Help You Keep Your Job
We have all seen knowledgeable high-level decision-makers lose their jobs after a project goes sideways. It is not their fault. They may be editors, creative service directors, or from other positions in charge of something outside their wheelhouse. They may not understand the technology or have project management experience.
When you do not know how to approach work, you become very reactive. That means spending your time throwing things at the wall to see what sticks and putting out fires. This approach is risky, especially when compared to hiring an experienced audio video pro who has done this type of work before.
The right person who has done this before will start with a methodical approach. They already have a bunch of tools in their arsenal, so they know how to apply these things in a very timely and cost-effective manner. By leveraging their experience and expertise, you can minimize the risk of miscommunication, scope creep, and project delays.
7. They Use An Experience-Driven Approach
Manufacturers typically see only one piece of the puzzle, while an integrator sees the whole puzzle. This is because integrators work on numerous projects with integrated technology, giving them a broader perspective than manufacturers.
Integrators have encountered a similar project to the one at hand. They can provide valuable insights into the best solutions for a particular workflow. This experience-driven approach ensures clients receive personalized guidance that meets their unique needs.
8. Integration Services Increase Productivity
If you decide to move forward with an AV integration project without support from a systems integrator or other partner, the person leading the project must get up to speed quickly and learn about all the available solutions. This process can take a considerable amount of time, and the person leading the project may not be able to perform their primary job, leading to dismal results.
If the person leading the project gets it wrong, you are paying for that project again. You are paying for the first time, which was wrong, and then you must wait while getting the new solution designed and implemented. This process will take more time, effort, and money than if you had done it right the first time.
There is a lot of wasted time between when you first realize the solution is not working and finally throwing it in the towel. By the time you decide to bring in help, you have already spent a lot of money and time trying to make things right.
9. They Mitigate Opportunity Costs
In the case of broadcasters, there have been instances where someone opts for audiovisual solutions that do not work within their system, leading to missed commercial insertions. This not only results in fines but also requires them to pay back the advertisers. This represents an opportunity cost because they did not select the most effective system in the first place. An integrator can see the whole picture and know ahead of time what will work well together.
Organizations may also neglect to involve all the right teams initially, which can lead to unforeseen issues. If the IT team is not involved right from the beginning, there may be certain capabilities that your network cannot handle. If you wait to bring IT or other departments until the end of the project, it may be too late. And late in a project, making significant changes can lead to costly project delays. An audio video integrator works with many decision makers and concerned parties and departments on any one project.
10. They Are Great Communicators
It is always wise to work with a trusted partner who has experience and can point out the pitfalls along the way. Partnering with an AV integrator is invaluable because they possess the insight of multiple projects in many different places and maintain good relationships with technology providers that need to work together.
By working with a systems integrator, clients do not have to take the journey alone. Integrators offer support and their expertise to determine the best possible technology design. Effective communication is critical for an audiovisual systems integrator to understand the client's needs and deliver a Having a clear and detailed contract that outlines the project scope, milestones, and deliverables is essential for successful AV system integration. That ensures the client, and the AV integrator are on the same page and understand the project's objectives and timeline.system that meets those requirements.
In addition to a clear contract, regular meetings and progress reports help ensure that the project stays on track and addresses any issues timely. Effective communication is critical for successful audiovisual system integration. The client should be transparent in their communication about their needs and expectations, and the integrator should be responsive and provide regular updates on the project's progress. That ensures the project stays on track.
Integrators Deliver Better Audiovisual Solutions
AV integrators possess the knowledge and expertise to identify potential problems related to equipment compatibility, signal routing, workflow efficiency, and scalability. By addressing potential bottlenecks and challenges beforehand, integrators can minimize the risk of miscommunication, scope creep, and project delays. Even if not hired for equipment selection, integrators can provide valuable insights to speed up the project and keep costs down. Due to their holistic understanding of technology ecosystems, they can preemptively address potential bottlenecks and challenges while ensuring the involvement of the appropriate players from the start.
Partnering with an audiovisual integrator allows clients to rely on seasoned professionals to manage their AV integration projects. This approach delivers high-quality work that meets the client's unique needs and protects high-level decision-makers from being blamed for the project's failure. By leveraging their experience and expertise, clients can ensure their AV integration project is right the first time, saving them time, effort, and money.
A Consultation Is Free
Vizual Symphony is the Riverside commercial audio video integration company with professional technology consulting services. But our services go way beyond video and sound consulting. Contact us for web conferencing and video conferencing services, digital signage services, and collaboration technology services. We service clients in higher education, corporations, museums, municipalities, and houses of worship. Our integration specialties include Web Conferencing, Digital Signage, Active Learning. Welcome Center, Lecture Capture, and Multi-purpose Theater solutions.
In conclusion, when exploring options for 'Audio Visual Integration Service near Me Riverside,' consider Vizual Symphony. Our advanced integration solutions aim to drive business innovation through cutting-edge tech tailored to your needs. From high-quality display systems to immersive digital media experiences, Vizual Symphony offers complete tech integration services that can elevate your communication and collaboration strategies in Riverside, California. Other areas we serve include Irvine, Pasadena, Azusa, and Glendale.
Are you ready to take your technology to the next level? Contact Vizual Symphony today for a consultation and discover how our expert full-service AV integration services can help you achieve more. Contact us for a free AV consultation at (626) 229 9112 or online.