Audio over IP Irvine higher education should consider for AV integrations on campus. With its innovative AV solutions, Vizual Symphony is at the vanguard of revolutionizing multimedia integration in the education industry. One of the essential technologies coming into its own is Audio over IP or AoIP. It takes the VoIP concept further to transmit high-quality audio over long distances with low latency. Please keep reading to learn how Audio over IP works, the evolution of the technology, and the pros and cons of using it in higher education environments.
AoIP uses Ethernet cables to connect signals between microphones, speakers, and headphones. Any device with an Ethernet port works as part of an AoIP system–you do not need special equipment like routers or switches; plug your devices into each other with cables.
How Does AoIP Work?
AoIP converts analog audio into compressed digital data.
The digital data goes over an IP network to a receiver.
The receiver converts the digital data into decompressed analog audio.
Amplified analog signals play through speakers or headphones for listening.
What Are The Advantages Of AoIP For Education?
One of the main benefits of AoIP is its ability to transmit high-quality, uncompressed audio over long distances without degradation. And it is easy to integrate with other digital systems.
What Are The Drawbacks Of Using AoIP?
However, there are also some potential drawbacks to AoIP. Because it relies on an IP network, latency, and packet loss risks impact the audio transmission quality. Additionally, AoIP systems can be more complex to set up and configure than analog audio systems. Also, the security and reliability of the IP network are factors to consider.
Overall, using AoIP in AV system integration installations can offer many benefits. However, it is essential to carefully consider the specific needs of your project before implementing this technology.
While AoIP can offer benefits such as high-quality audio transmission and flexibility in audio routing, it may also require more complex setup and configuration than traditional analog audio systems. It is critical to carefully evaluate the costs and benefits of AoIP about your project's goals and budget before deciding.
What Are The Advantages Of AoIP Over Traditional Audio Systems?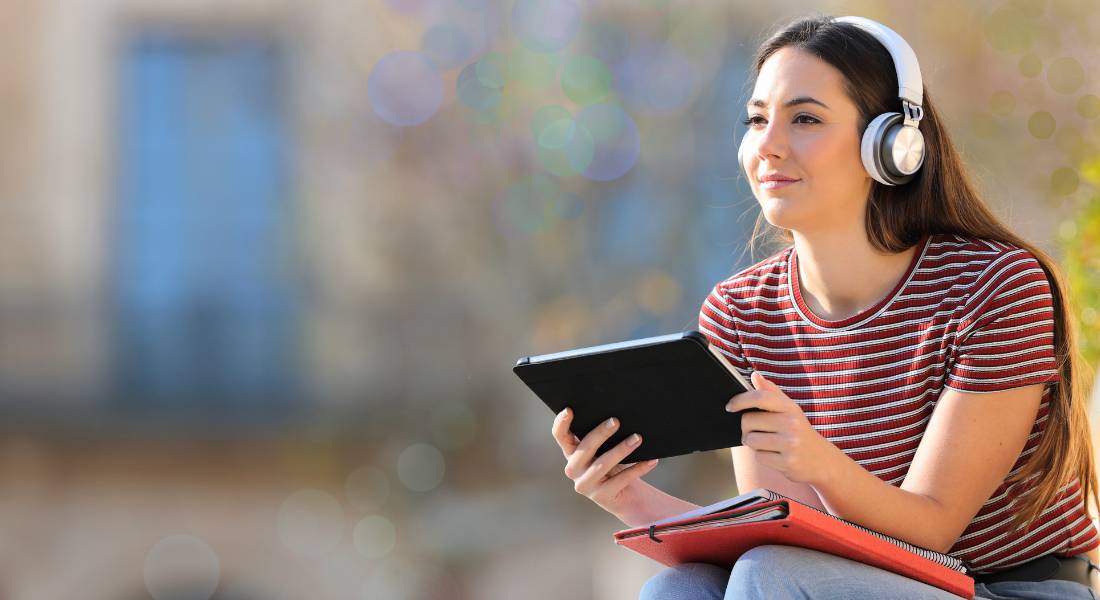 AoIP technology sends audio signals using broadband connections and digital data packets over the Internet, unlike analog systems that require long cables and expensive equipment.
The advantages of AoIP are many, but the most obvious is flexibility. With a conventional audio system, you must buy new equipment whenever you want to add another room or change your setup.
Utilizing AoIP, you can effortlessly transmit audio from one end of your network to the other through IP without requiring additional equipment. AoIP uses existing equipment, cabling, and software. That makes it an attractive option for higher education, where many want to upgrade their systems without spending much money.
Audio Over IP Irvine Higher Education Benefits
Increases Safety
AoIP requires less equipment than traditional analog systems. Simply put, this practical solution eliminates clutter. And the mental fatigue that results from dealing with jumbles of wires, cables, and stacks of components.
Without the need for additional AV equipment and cabling, educational facilities gain floor space while reducing trip hazards. What college or university would like better audio and safer, more spacious classrooms?
Traditional analog audio systems require wiring and a lot of it. The copper wire and cable necessary is expensive and extensive. Long cables connect components like microphones and speakers to other components in an audio system.
Not so with AoIP. Fewer wires on campus make the environment safer for students, faculty, staff, and visitors. But that is not all. Laptops, displays, and other AV equipment are less likely to fall, become damaged, and need repair or replacement when fewer wires are in play.
Scalable Solution
One of the most significant advantages of AV over IP is scalability. Unlike traditional analog systems, with cable length and available input limitations, IP-based systems expand quickly, adding more devices and sources.
Cost Savings
Using existing protocols at your college or university, we can implement Audio over IP. Using existing equipment in an AoIP integration may reduce training time and costs. In addition, repurposing technology and infrastructure elements may enable the implementation of Audio over IP concurrent with the existing network. Also, the cost savings of replacing older systems with this type of setup, rather than acquiring a new system, is something for colleges and universities to consider.
More Control
The integration of cloud IoT technology with AV over IP in higher education AV systems can provide advanced control in classrooms and campuses. These systems centralize the control of classroom audio, projectors, lighting, and indoor climate to meet specific educational needs. AoIP systems use standard IP protocols and Ethernet cable infrastructure, making it possible to easily integrate with other 3rd party AV, security, and telephony systems. They also offer a higher degree of control, use, and expansion previously impossible with conventional analog systems.
The network audio system provides remote control and servicing via a secure web-based user interface. That allows appointed staff or service engineers/installers access to the system while restricting access to unauthorized personnel, thereby increasing system security. Integrating a control processor can combine controls of multiple systems in one place, making it easier to control classroom audio, projectors, lighting, climate control, and other audiovisuals per the current educational requirements.
AV solutions for higher education can also simplify audio-video systems by integrating digital podiums, PA systems, and automation controls. A web-based platform featuring desktop touch panel control and remote management can provide a more streamlined and efficient system.
Easy Upgrades
Just make some upgrades. You do not need to buy a new system. Just make some upgrades. Upgrading your existing system with Audio over IP technology is easy and affordable. You can use Audio over IP with all analog and digital audio components, even if you have an older setup incompatible with newer technology. Upgrade your audio system today with our AV solutions and enjoy the benefits of Audio over IP technology.
How To Use Network Audio As A Learning Resource
Not only is network audio for PA announcements and emergencies for schools but also for the classroom as a learning tool. Audio is an excellent method for engaging students with information. It is a quick and cost-effective way to connect with the students.
Using network audio in a classroom allows more interactive content to enhance instruction. For example, teachers can connect PCs, tablets, or smartphones to amplify lectures and broadcast media through classroom speakers. In addition, colleges and universities can use AoIP to improve the overall atmosphere and morale by playing background music on campus.
FAQ About Network Audio Systems
Why Use Audio-Over-IP In Education?
IP audio systems provide an efficient, flexible, cost-effective solution for communication, educational enhancement, and safety and security in schools, colleges, and universities.
An audio-over-IP system also allows for simple and broad expansion at any time. Connecting additional IP audio endpoints, IP speakers, or entire zones to the network system is easy and cost-effective. Thus, colleges and universities can adapt to changing requirements more quickly.
What are the potential risks of using AoIP?
The potential risks of using AoIP (Audio over Internet Protocol) include the possibility of network failures or interruptions, which could result in audio dropouts or complete loss of audio. Additionally, the security of the network and the audio data transmission should be a concern, as unauthorized access or data breaches could occur.
How does AoIP compare to traditional analog audio systems regarding complexity and cost?
AoIP is more complex than traditional analog audio systems, requiring specialized hardware and software. However, it can also be more cost-effective eventually, as it can reduce the need for physical audio cables and simplify the audio routing process.
How is this technology implemented in educational settings?
AoIP technology in educational settings uses specialized hardware and software solutions, allowing audio data to integrate into existing network infrastructure, including networked audio interfaces, audio routers, and specialized audio management and routing software.
In higher education environments, AoIP technology occurs in life event broadcasting, lecture capture, and distance learning applications. For example, universities may use AoIP to stream live audio from a lecture hall to remote students or to record and archive classroom lectures for later viewing.
What are the considerations when incorporating AoIP into their AV system integration installations?
Before implementing AoIP technology, it is essential to evaluate the specific requirements and needs of the system. Consider factors such as the network infrastructure, the number of audio channels needed, the desired audio quality, and the redundancy required to ensure system reliability.
What specific factors should be considered before implementing AoIP technology?
When incorporating AoIP into their AV system integration installations, it is crucial to consider factors such as network bandwidth and latency, audio quality and reliability, and compatibility with existing hardware and software solutions. Additionally, security should be a concern, and responding appropriately to protect the network and audio data transmissions is essential.
What are several best practices for implementing AoIP technology?
Best practices to ensure optimal performance and reliability when implementing AoIP technology include
Thorough planning and evaluation of the system requirements
Careful selection of hardware and software solutions
Proper training of system operators
Regular system testing and maintenance
Network Audio Integrations Are For Higher Education
In conclusion, Audio over IP (AoIP) is a technology that has gained significant attention in recent years, and for a good reason. It offers high-quality, uncompressed audio transmission over long distances with low latency, making it an excellent choice for higher education AV system integrations.
However, it is essential to consider the potential drawbacks of using AoIP, such as latency and packet loss risks, complex setup and configuration, and the security and reliability of the IP network. Overall, the advantages of AoIP, such as flexibility, scalability, cost savings, and more control, make it a practical solution for educational facilities, especially those looking to upgrade their systems without spending much money.
Another advantage of using AoIP in higher education is its ability to provide a flexible and adaptable system. With AoIP, it is easy to reconfigure the audio setup to meet changing needs. For example, if a classroom's layout changes, reconfiguring the audio system to accommodate the new setup is a breeze. This flexibility allows educational institutions to adapt to changing needs and stay updated with the latest technology without incurring significant costs. Furthermore, remote management and system monitoring reduce the need for on-site maintenance and support.
Please read the case study on distance learning integration at Azusa Pacific University. Vizual Symphony helped APU survive the transition to distance learning with Stem Audio.
Visual Symphony ensures your AV system is flexible for all teaching needs. So, if you are looking for a partner to help you create a custom AV integration solution for your lecture hall, look no further than Visual Symphony. Vizual Symphony is a small business-certified, female-owned, CMAS-approved business. Please call (626) 229 9112 for a free consultation